Welcome to RAMPA! We would like to introduce ourselves...
---
Would you like to learn more about RAMPA? Glad you found your way to us! RAMPA GmbH & Co. KG is your tradition-conscious and at the same time dynamic producer, full-service provider and solution-enthusiastic expert for technology in connecting elements. Founded in 1907 and based in Büchen, we are a family business spanning six generations. In short: As a manufacturer of RAMPA inserts and an employer in the Hamburg metropolitan region , we rely on strong connections and are excited about the wide range of opportunities possible! Enter RAMPA world - We would be happy to show you our roots and who we are today.
Our roots: It all started with wooden inserts at RAMPA...
Did you know that RAMPA GmbH & Co KG was not always called RAMPA and until 2020 was called Hans Brügmann?
The company founder Hermann Brügmann developed the original design of our RAMPA products in 1907. It all started with wooden inserts. The goal was to make wood screws which were permanently resilient for use in his work as a carpenter.
They needed to be able to be detached and reconnected repeatedly without any loss of quality. He succeeded in achieving this with the RAMPA insert. The rest is history. RAMPA inserts, for example, have been synonymous with quality connecting elements in furniture construction for decades.
Over the decades, we established our threaded inserts beyond the furniture industry into other woodworking and plastics processing industries as well as metalworking. As a manufacturer, expert, solution finder and global market leader in connecting elements technology, we are known for...
high levels of enthusiasm for finding solutions: We focus on the possibilities and develop suitable customer solutions
invisible and permanently removable connections
a wide range of screw-in inserts/threaded inserts/brass bushings for use in plastic, metal and wood
high quality, produced in Germany
CAD drawing that can be produced at short notice according to your specifications
small quantities available from stock with 100 items for standard goods
small quantities available from stock from 10 pieces for selected top products
We are the inventor of the threaded insert and set the standard! That is why it is important to us to assist you in developing connection solutions and ideal screw connections with the best possible support. If there's a problem solving challenge, we're happy to help and develop fact-based results.
Whether for materials made of wood, metal, plastic or a new material: With us, you will find the right RAMPA inserts, knock-in inserts, dowel nuts, cross dowels, screws and more to easily make your planned constructions a reality by means of invisible connections with high load capabilities. A tested 1-click RAMPA lifting equipment is also part of our range. Our ETA-approved RAMPA inserts provide the required safety guarantee in, for example, these areas:
Wood construction

Staircase construction

Window construction

Bridge construction

Public construction

Fall protection

Railing attachment

Balcony attachment

Canopy attachment

Awning attachment
In addition to the core range, we also specialise in developing custom designs for threaded inserts and other RAMPA products. Because no two customer projects are the same. No matter what project you are seeking solutions for: Contact us via mail or by phone 04155 8141 601! We are happy to help, because we believe "Good idea. Let's make it!".
____________________
"Solid connections are the human requirement for reliability."
Kristina Brügmann (Owner)
____________________
For the RAMPA team to be successful, and to meet our own high standards in terms of quality, customer focus and inventiveness, we have developed our own RAMPA identity. This is followed in everything we do and is defined by our vision, mission and values.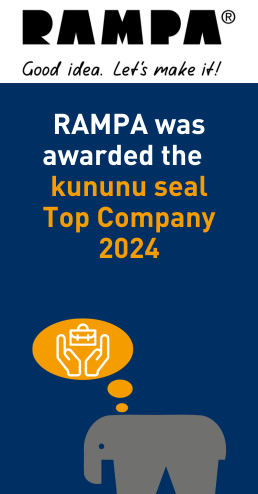 ...at the human level, at the product level and at the global level. This has enabled us to prove ourselves as a reliable partner for over 100 years. On the one hand, this affects our customers: We would like to have a partnership with you and enjoy long-term cooperation. We have the same approach with our employees and the next generation of shareholders.