RAMPA Insights: The departments introduce themselves!
---
Allow us to introduce ourselves: We are the RAMPA-Team! All of our departments are an integral part of the jigsaw for the success of the company. Just like our inserts, we stand for a strong connection. Only as a unified whole can we live up to our quality standards and embrace our can-do mentality. Get to know our individual teams better to gain even greater insight into the RAMPA world.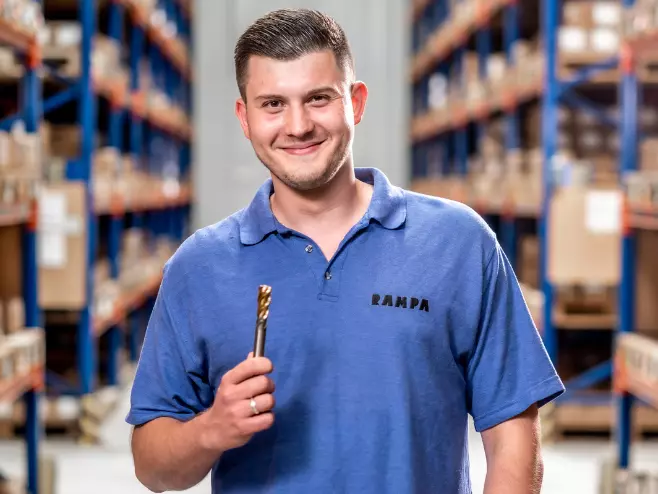 We are the Production Team!
We ensure together every day that the production of our threaded inserts is efficient and flawless. Our top priority is to ensure that the finished RAMPA-items leaving the production halls are at the highest quality. Quality is, after all, the be-all and end-all for us! This is also borne out by our complaint rate for in-house production of less than 0.1 %!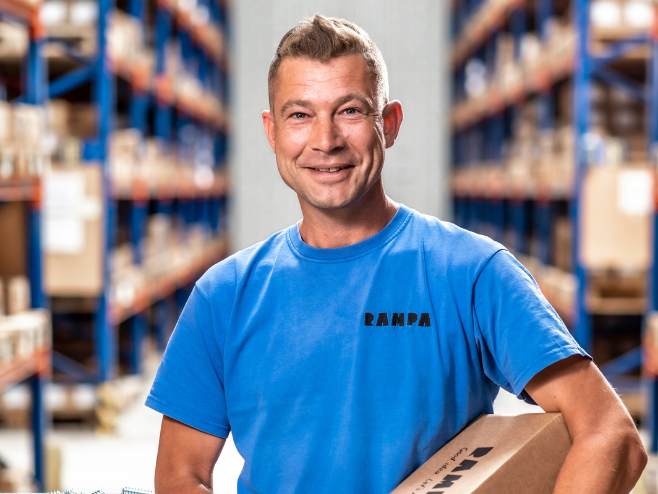 We are the Warehouse Team!
From order selection to packing our goods to management and organisation of the warehouse - we do everything to ensure that your ordered items are delivered to you on time, safe and sound. Thanks to our knowledge of our items, availability and the customer's needs, your orders are processed quickly and packed ready to be shipped.
We have a high stock availability of nearly 97 % for standard items and 99 % for our own production items! Standard items are dispatched on the same day for orders placed by 12 am and arrive within standard delivery times!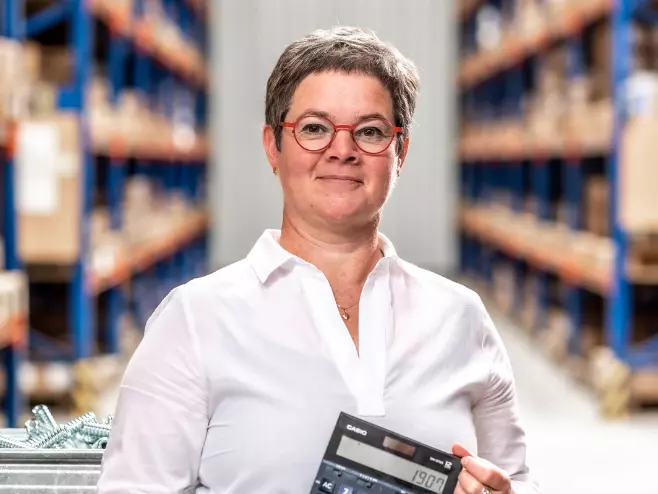 We are the Accounting team!
Our area of expertise is RAMPA's finances. When it comes to our figures, we check everything for accuracy. This means, we ensure all colleagues have the information they need at their disposal at all times. Our responsibilities include, keeping track of all income as well as expenses and undertaking the monthly and year-end closing. Together with our sales department, we are also a reliable contact for our customers in all matters relating to payment processing.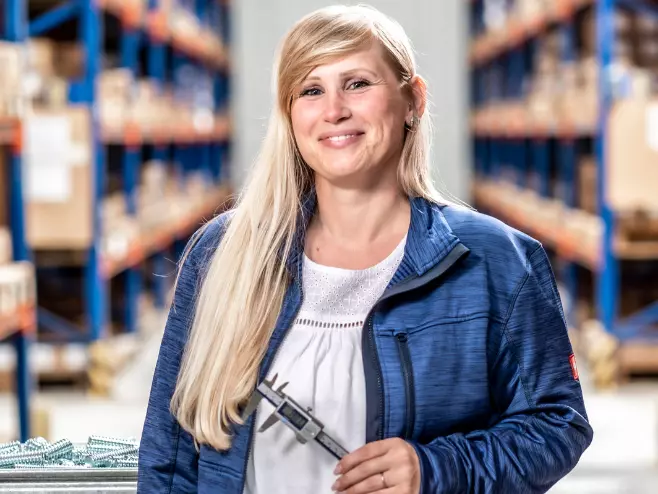 We are the Quality Management Team!
The Quality Assurance team ensures the continuous monitoring of process and product quality and the identification of process optimisations.
Maximum quality assurance from production to delivery of RAMPA products is a key aspect of our philosophy. For us, production accompanying inspections with detailed test protocols and in-process quality assurance measures are part of our daily routine. These are intended to ensure the long-term and high quality of our products. An accurate eye and a bit of detective work now and then are also essential here.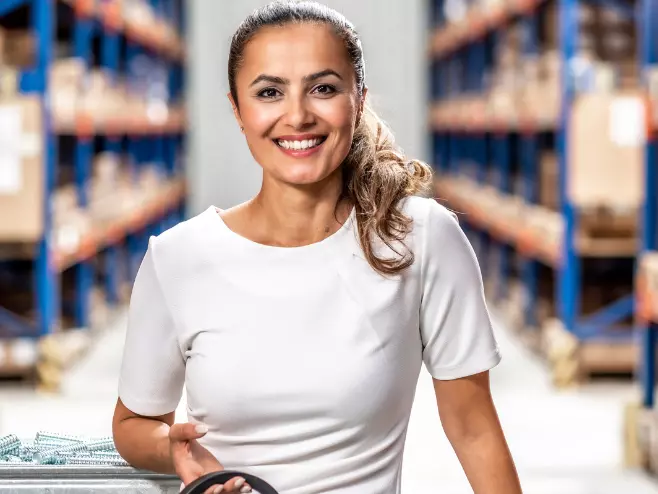 We are the Sales Team!
We have three expert teams specialised in the application areas of our products in wood and plastic/metal as well as specialising in the trade customer sector. Whether it is addressing questions or advice on our threaded inserts, the preparation of quotes or fast order processing - We are always there for you and focus on reliability and solutions. We are always enthusiastic about the variety of possibilities and find customised connection solutions!
The shipping team is also part of the sales department. As your supplier and logistics partner, we provide comprehensive processing from a dedicated single source. From express shipping to container sea freight, we provide the full range of delivery options with the assistance of our service providers in the transport sector. We make sure that you receive your ordered connecting elements as quickly and complication-free as possible on the desired delivery date. We export worldwide and, as an Authorised Economic Operator with AEO "Customs Simplifications" status, we are regarded as particularly reliable and trustworthy.
As an approved exporter we have a license and as a registered exporter we have a registration. We particularly take advantage of concessions for security-related customs controls as well as simplifications in customs regulations. These advantages lead to significant time savings and flexibility in the shipping process!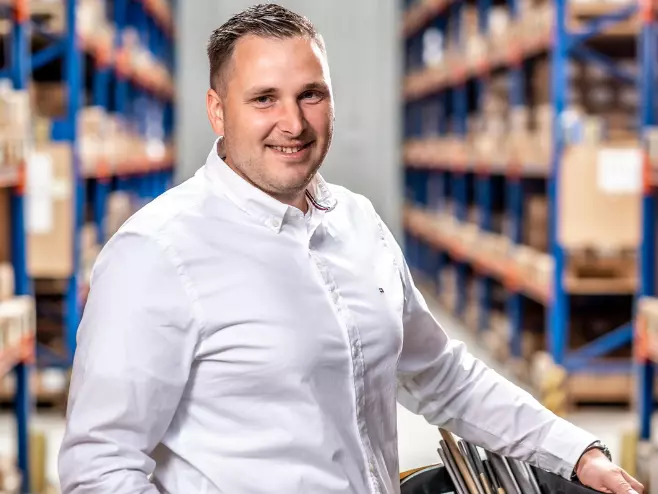 We are the Purchasing Team!
Our daily business activities includes the reliable procurement of our raw materials, operating resources and everything else that is needed in our day-to-day operations. We do our utmost to order high-quality materials on demand so that our promises such as high RAMPA quality and stock availability can be kept at all times. By doing so, we create the essential framework conditions for a high level of customer satisfaction. We are always aware of this responsibility!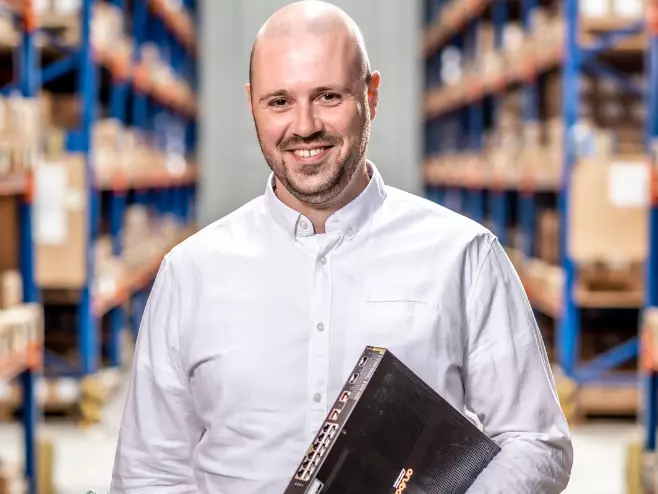 We are the IT Team!
In the era of digitalisation and automation, IT as a department is more important than ever. For example, existing systems are kept running, protected and continuously optimised, and new systems are implemented. RAMPA is expected to have it's finger on the pulse of the times, which is why we in IT have also taken up the RAMPA "Maker of Possibilities" spirit. We are forward thinking, implement technical innovations and guide our colleagues through changes and problems.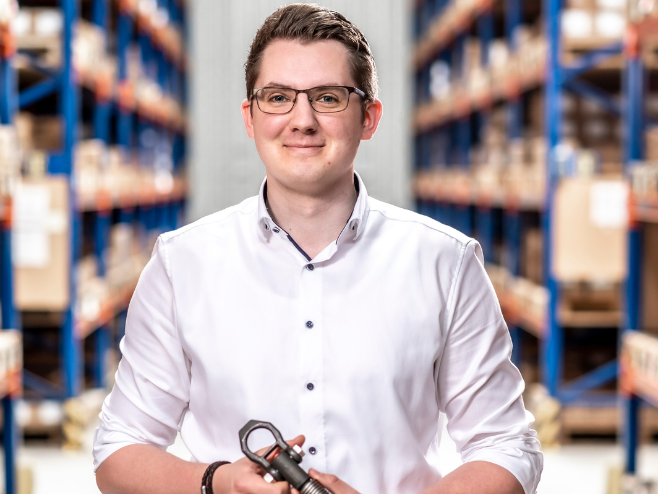 We are the Technology/Development Team!
The daily work with the possibilities and limits of the physically possible distinguishes us. We are the experts when it comes to complex technical advice on projects, providing technical backgrounds and developing individual connection solutions using the appropriate RAMPA inserts. In our test laboratory, we determine the extraction values and other important key figures of our products, which we make available to you via our product information.
Especially in our department, the enthusiasm for the variety of possible applications of our RAMPA inserts plays a major role. We are keenly interested in the innovation and further development of our products, in line with our slogan "Good idea. Let's make it!".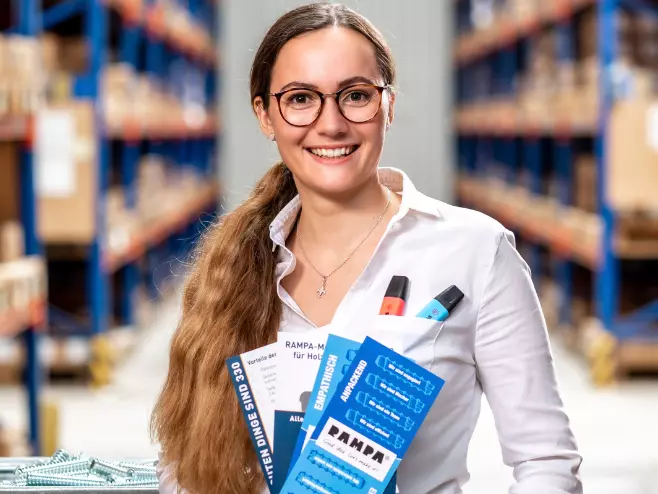 We are the Marketing Team!
Whether on the web or in print - we are the ambassadors of our brand across all relevant channels. As creative minds, it is our passion to make RAMPA more tangible and to authentically communicate our values and visions to the outside world. We would like to draw the attention of all interested parties to new products and provide them with important information for an optimal understanding of our connecting elements.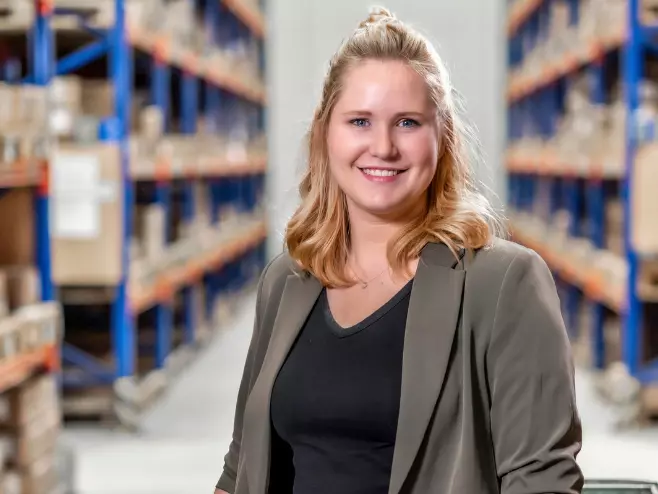 We are the HR Team!
High levels of satisfaction among our employees is very important to us. We therefore see ourselves as the first and mandatory point of contact for personnel topics and queries of all types. We are approachable, listen and find individual solutions when action is needed.
To ensure the success of the company, we make sure that employees are deployed and promoted in the company in the best possible way. As a hidden champion from the region, our goal is to strengthen our employer brand and fill vacancies with new possibility enablers with values and goals matching ours as perfectly as possible.
Become a part of our team of possibility enablers!
Would you like to join our team? Look at our vacancies and see if there is something suitable for you. If the right job for you is not currently displayed: We are also open to unsolicited applications.
If you are looking for apprenticeships close to Hamburg , you have also come to the right place. We offer internships for school pupils and opportunities to complete the compulsory internship as part of a study course. We typically provide training in these apprenticeship occupations:
Apprenticeship as a warehouse logistics specialist

Training as a machine and plant operator

Management assistant for wholesale and foreign trade management
Dual study program in cooperation with the Nordakademie Elmshorn (courses of study (Bachelor): Business Administration, Industrial Engineering, Business Informatics)
Secure one of our exciting jobs or apprenticeships in the district of the Duchy of Lauenburg now! More information is available on our pages "Working at RAMPA", "About us" or "Apprenticeship at RAMPA". Or check out our social media channels.
We look forward to hearing from you!